Matthew Harty Mito Classic

Play Hockey for Mito!
Join MitoAction and local North Andover families for the
6th annual Matthew Harty Mito Classic!
April 9th at 3:00 p.m.
North Andover Youth Center, North Andover, MA
From Birthday Party to Fundraiser
In 2008, Jack Pascucci, from North Andover, MA was in kindergarten and wanted to have a street hockey birthday party with his close friends. His celebration included shirts, a "concession stand," an award ceremony, and Junior Hockey players volunteering as "coaches."
A tradition was born...

Jack was always the captain of one of the hockey teams while his friend, Michael Harty, was the captain of the other. This led to renaming the event the "Jack and Mikey Birthday Classic" when the boys were in second grade.
By sixth grade, Jack felt he had grown out of having birthday parties even though the same friends who had come to the event since kindergarten were begging him to continue the tradition.
Then, in December 2013, the familes suffered a terrible loss when Matthew Harty, Michael's little brother, passed away from mitochondrial disease. Jack had a difficult time dealing his emotions. "His mind-set went from feeling helpless to hopeful as the idea of changing the birthday party to a fundraiser for Matthew came to mind," said Kristen Pascucci, Jack's mom.
When word about the Matthew Harty Mito Classic spread, Bob Sweeney, the former Boston Bruins player who is now the director of The Bruins Charitable Foundation, was so impressed by Jack and Michael, he wanted to be part of the event. He offered to donate signed memorabilla and match donations for The Matthew Harty Camper Fund. The entire North Andover community joined in to celebrate Matthew and support other children who were suffering from mitochondrial disease.
Now, six years later, the Matthew Harty Mito Classic is a much anticipated event in the North Andover community. We are excited to expand the event as we partner with the North Andover Community Center and their student leaders who will join in to ensure that the Matthew Harty Mito Classic continutes for years to come.
In Honor of Matthew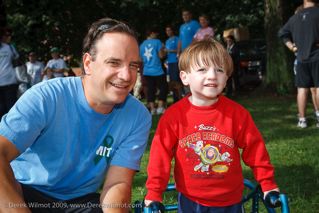 2014 was the year Matthew Harty's parents, Paul and Sarah, were going to send Matthew to Camp Korey in the summer. "We wanted to send Matthew to camp because we wanted him to feel that experience of just being a kid at camp, like everybody else," Paul said. But, Matthew never got the chance. Just days after his 8th birthday, Matthew died of mitochondrial disease.

MitoAction works tirelessly to support kids like Matthew, and in his honor, to ensure all kids with mitochondrial disease have an opportunity to attend summer camp or attend college.

Proceeds from this event benefit the Matthew Harty Camp and Scholarship Fund, which sends children with mitochondrial disease to summer camp and provides college scholarships for Mito students and a student from North Andover High School.
Support a great cause by becoming a sponsor of the MHMC!

Custom Sponsorship packages are available. Click here to learn more.
Law Office of Peter J. Radulski