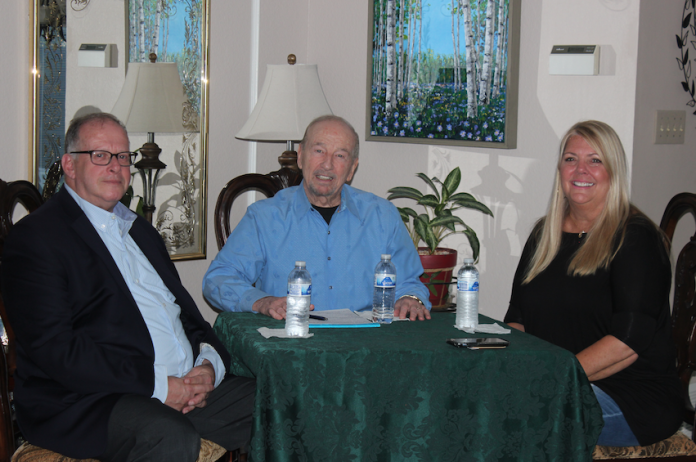 Peter Klamkin, Bob Weir and Susan Klamkin, photo and video by Netsky Rodriguez
During the past couple of years, we've all been made aware of a disease, virulent enough to weaken, disable, or even kill us. COVID-19 has caused us to rethink the body's ability to deal with a virus that descended upon us suddenly, and with vicious potency. Most of us have been blessed to have easy access to the vaccinations that serve to reduce our vulnerability to infection.
I'm sure we'd all agree that good health is the greatest blessing life can offer. It's also axiomatic that, if you've been fortunate enough to enjoy good health throughout your life, you're probably going to take that blessing for granted. That's not unusual because if you've always had something, you don't know what it's like to be without it.
Therefore, from time to time it may be a good idea to see what it's like for those who have struggled with challenges to their health. One such person is Emily Klamkin, a 34 year-old Flower Mound woman who knows about such challenges. In July 2018, I did a video interview with Flower Mound resident Susie Klamkin, whose daughter Emily was born with intestinal pseudo-obstruction, which was caused by mitochondrial disease. After she was born, it took 4 years for the doctors to figure out that she had this condition, along with chronic pancreatitis; and it took 7 years for them to diagnose her mitochondrial disease. At the age of 13, she lost her large intestine and most of her small intestines.
Since birth, Emily has endured numerous challenges to her health. The intestinal pseudo-obstruction and chronic pancreatitis along with her mitochondrial disease caused almost constant strokes and seizures. It was determined that Emily has a chance for a new life with a 5-organ transplant, which will cost about $2 million. Former Flower Mound Mayor Tom Hayden read the story and watched the video I made with Emily's mom, and he came up with the idea for a fundraiser to help the family with the enormous expense.
Click here for the full article.